Let's play a game, I say a word and you have to say the first thing that comes to your mind. Here we go – "Maldives". If you're like me, you must struggle to describe what comes to your mind, as it feels like describing Heaven on earth.
Everybody knows the Maldives for its out-of-this-world islands that surround themselves with turquoise clear waters. A country where only 1 percent of it is actual land, and the rest – lifeful waters filled with coral reefs and rare sea life. But what does an all-inclusive trip to the Maldives actually look like?
Today I want to share with you all the suggestions and tips for an unforgettable trip in the Maldives, backed by my own personal experience.
This article is NOT sponsored by Club-Med, It's an honest review.
Maldives Travel Tips
Going to the Maldives can be overwhelming. It's a unique destination, and unlike traveling to Europe, where you can plan a trip on your own easily, in the Maldives you might want to consider taking some of the hassles off of you.
That's why I've decided to take an all-inclusive trip to the Maldives. I stayed in the all-inclusive Club-Med Kani Resort, an on-water resort in Maldives.
1. Club-Med App
Your magical vacation starts a few days before even stepping on the plane. Actually, right in your bedroom while downloading the Club Med App. The app contains important information, such as the activities on the island, and even the dress code for each day.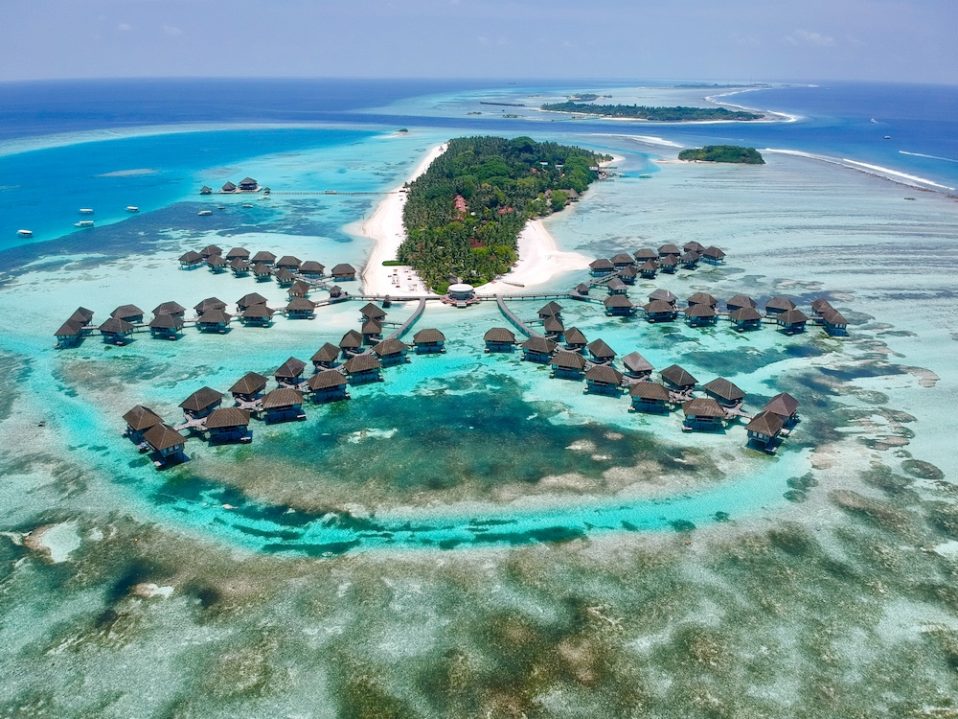 2. Best time to visit Maldives
While the Maldives' rainy season sets between August and October, the weather is mostly unpredictable throughout all year. So make sure you're aware of the weather for every upcoming week and visit Maldives anywhere between November and August.
3. Plan your "Extras" budget:
If you're an adventure-seeking traveler like myself, I recommend planning a budget for special activities, as the all-inclusive services doesn't cover all thrills. Activities such as fly board, motorboat, surfing Jet skies, surfboards, and scuba diving are just some of the activities that aren't included in the original price and are charged at extra cost.
Packing for the Maldives:
In the Club-Med Kani Resort, each night has it's own theme. So, if I were me and so happens, I am, I'd take my suggestion and pack my clothes according to the theme schedule in the Club Med app. Make sure your fellow travelers do that too, so you'll be all dressed up fabulously for each night.
Other than that, I suggest you pack the usual necessary items, as well as:
Masks for the flight
3-5 bathing suits, you're staying in a on-water resort in Maldives.
1 or 2 books
Beachwear
Cloths for the flight
T shirts and sport wear for activities such as trapeze, stretching, Gym and more
One set of flip flops
Snorkels
Ladies don't bring heels; the ground is sandy all over.
Flying to the Maldives:
You better come prepared for the flight. The Maldives are isolated from the rest of the world, and the flight to those beautiful islands is going to be quite long. Arm yourself with crossword puzzles, a comfy neck pillow, and many snacks.
We started our 13.5 hours trip with a connection flight to Dubai. That took us 3 hours, and we spent 5 more hours in Dubai's airport. Here are my 2 conclusions for do's and don'ts when you're in an airport:
Pedicure – don't.
Sleeping chairs – a big yes, and catch the comfortable ones as fast as you can.
After the 5 hours wait we finally flew to Maldives.
Tips for the Flight:
Whatever you do, always get the omelet.
Bring a pillow
Bring headphones
Downloaded movies and songs before hand
Bring a book
If you need suggestions, here are some good options on Amazon –
Neck Pillow
Beats Studio Buds (Headphones)
(I'm an Amazon associate and these are affiliated links!)
Arriving at the Island:
From the airport you and your baggage will be taken alongside other Club Med Guests in a boat to Kani Island.
Helping you forget the tiring journey, is the Club-Med Kani staff. Prepare to be welcomed as if you were a royal family, with big welcoming smiles and a red carpet (I may be exaggerating) .
You'll be escorted from the boat straight to a tour of the best on-water resort in Maldives – Kani Resort, led by your special guide. At the end of the tour, you will find yourself standing at the doorstep, observing a magical room that is going to be your new home for the trip.
Maldives On Water Resort Rooms:
There are several different types of rooms on the resort. The most exclusive being the manta area.
The manta suits are located at a secluded area of the resort. Each suit sits on top of the ocean water, with a balcony that goes straight into the sea, as well as a luxurious washroom with a beautiful bath looking out to a view of crystal clear turquoise waters. The only thing close to this on-water experience is the beaches of Karpathos and Zakynthos.
The manta suits also include breakfast delivered straight to your room, a private beach, private events, a personal concierge and a private bar. Priority booking for all activities.
In my opinion, the Manta area is a perfect fit for couples or people who enjoy a secluded peaceful and quiet vacation. Honestly, I hope my future husband will take me there for our honeymoon.
It goes without saying that even if you're traveling with family or friends, you will enjoy the suits just as much. As someone who stayed at the Manta suits with family, we just loved the suits, the baths and the extra benefits of the Maldives resort on water.
Maldives Resort Activities
The Club Med is one of the best Maldives resorts for activities, offering all different types of free attractions throughout the day, every day.
You can go on an Aqua workout, acrobat your way on a Trapeze, learn how to Set Sail, Snorkel with sharks, go on a Cooking Workshop and make traditional dishes, or Canoe on the most beautiful waters of earth. The list goes on, but those were my personal favorites.
Each activity has its own staff member in charge. The staff member responsible for an activity keeps track of the guests' improvement and level each session. This system gives the guests a chance to improve and acquire new special skills (such as the skills mentioned above).
I haven't seen this method anywhere else in the world, but I absolutely loved it.
Sailing Trip in the Maldives:
An adventure I won't let you miss is the amazing Mantra sailing trip. We happened to stumble upon it by accident due to our love of sailing, and our bond with the amazing sailing crew. You have to sign up a day in advance, but you can always check if there's room in case you missed the opportunity. The Mantra sailing trip is included and it's no extra cost.
How it works? Basically, after you've successfully passed a sailing lesson, you are qualified to sail with your family on your own, up to 3-4 people. Each family gets a a sail boat and just like a duckling family we sail to different islands to have drinks and bond as sailors do.
After this extraordinary sailing trip, there's a special event for the sailing groups. Afterwards we all sit together for drinks and dinner. This amazing experience helps bond families and guests together, and I highly recommend you don't miss out on this one.
Maldives with Kids
Parents with children between the ages 4 – 17, who just wish to relax. You have the Club-Med Kani's Kid's club at your service every day.
I do have to be honest, I didn't get to experience the kid's club as much, seeing as I'm 23 who came with adults. But from what I observed from the side I can surly say your kids will enjoy their vacation just as much as you do, if not more.
With a bunch of daily activities such as cookie baking, pool fun, snorkeling, beach activities and more, the kids surely get to experience a fun and memorable vacation, led by the amazing GEO kids team. Another touching observation was noticing the incredible bond between all the children from all over the world.
Maldives Food:
The club med kitchen contains meals from all over the world. Lunch and dinner include unique dishes inspired by Chinese, Indian , Italian and French cooking.
You'll mostly see fresh fish dishes due to the rich fishing culture on the islands, but in my opinion the meat dishes are just as unique, delicious and cooked to perfection.
Some dinners, have special themes attached. Here are some examples of my absolute favorites –
White Dinner – Thursday Nights:
While all dinners are amazing the White Dinner is the most special.
Dining at the beach with an incredible buffet, you get to watch a beautiful circus show by Club-Med Kani's own circus team.
At the end of the dinner the chief of the village honors the entire kitchen staff, while all the guests swing their napkins in the air as a symbol of our appreciation. This outstanding ceremony leaves you with a huge smile and a full heart (and stomach) for the rest of the night.
Maldivian Independence Day Dinner:
The 26/7 is a special day to be in the Maldives all together.
The day is filled with cultural references to the Maldivian's traditional way of life. From the Maldivian traditional outfits to taking part in a traditional Maldivian wedding ceremony. At this day, you can will find Maldivian cooking workshops, local music and a lot of dancing.
The Club Med allows the guests and staff to celebrate this holiday together which makes the experience even more unique and memorable. The special independence dinner includes many Maldivian dishes, and the Maldivian staff are dressed in traditional clothes.
On this special day, the staff gets to dine, drink and party with the guests.
The Restaurant – Mondays, Wednesdays, and Fridays:
The Club-Med Kani Resort offers a special restaurant, on a balcony looking over the sea. The restaurant is open three nights a week and needs to be booked in advance. The restaurant obtains only thee choices of dishes for each course but all are phenomenal.
The restaurant gives the vacationers a chance to have a quiet, private dinner as they please.
Club Med Shows:
Each night concludes an excellent musical show by theme, played by the Club-Med Kani GEO team. The shows are choreographed beautifully, and fit for all ages. Along side the musical shows, you can find some circus acts. Other than that I don't want to spoil the surprises and fun.
Maldives Nightlife:
Each night ends with a dance-off, followed by a party. I highly suggest trying to stay up for some of the nights.
I imagine staying up late and waking up all washed out isn't ideal for all, so I'm going to exclusively let you in on the parties worth staying for. I won't say why but you have to trust me blindly on this one. I would also love to hear from you in our Facebook Community if you think otherwise.
The white party
70's & 80's party
Glow party
Summary
I think the most memorable aspect of the trip was the Club-Med Kani staff. All the way from the incredible, charismatic, attentive and nice manager Jeoffrey and his beautiful crew, to the desk and concierge team. And of course, the incredible GEO crew.
It's worth to mention how hard the team works to make your vacation no less than perfect. The team's kind and welcoming treatment is what makes the stay so magical. If you're seeking for an excellent Maldives resort on water, the Kani resort just might be your best option.