The wonderful beaches of Zakynthos (also known as Zante), are famous for a variety of reasons that attracts all kinds of audiences.
Travelers can enjoy beautiful and majestic landscapes and turquoise waters, along with beautiful caves carved in the mountains surrounding the beaches.
Party animals will enjoy the lively bars on the beaches' shore, and the incredible parties held at night.
Families will take advantage of the quieter beaches scattered around the island, for photogenic and breathtaking experiences, like water sports, relaxing on the beach, or hiking the mountains around it.
And water sportsmen will enjoy a safe environment to explore filled with sea life.
But there are more than 25 beaches scattered across Zakynthos, so which one should you choose? Let us help you with that, we narrowed down the list to the top beaches in Zakynthos, each offering a different kind of experience that's suitable for different kinds of travelers –
Getting around in Zakynthos
If you want to visit multiple beaches in Zakynthos with ease, you might want to consider renting a car. Public transportation might be difficult to deal with when moving from one beach to another.
Although, if you're comfortable with staying on 1-3 beaches throughout your whole vacation, public transportation will do just fine.
Is it your first time visiting Greece? you can read more articles we wrote about the Greek islands, like Things to do in Corfu, to find the island that fits you best.
1) Navagio Beach (Shipwreck Beach)
Starting with Navagio beach (Shipwreck Beach), this coast is known as the most photogenic beach in Zakynthos, and you can easily see why –
It's not hard to see why it's so naturally beautiful, with white limestone mountain cliffs surrounding it from left to right, and turquoise waters just like in the Maldives spread the mountains at the center. But its true uniqueness lies within the mysterious ship wreckage sitting at the center of this rather small beach.
The story behind the Shipwreck Beach, Zakynthos
The story behind it is far less mysterious though. In 1980, a ship sailed from the port of Argostoli, Cephalonia to the port of Durrës, Albania. During the sail, 2 hours of extreme weather made the ship lose control and end up at Navagio beach.
It immediately got raided by thieves, and though the authorities asked the captain to remove the shipwreck, the captain decided to leave it as it is to serve as a beautiful monument.
Where is Shipwreck Beach located?
Navagio Beach is located at the northwest corner of Zakynthos (Zante), a short 10-minute drive from the city of Anafonitria. The beach has no facilities whatsoever, so make sure you bring plenty of food and water, along with a shade canopy.
2) Banana Beach, Zackynthos
Banana beach is the safest option among the beaches of Zakynthos. First of all and most importantly, it's stunning. Its exotic light blue waters reflecting the sun create a magical view to fall in love with. The waters are clear and shallow, and the sand is soft and friendly, making this beach the best choice for relaxing and enjoying the sea in the most casual way possible.
But that's not all, the greatest thing about Banana Beach is that it's the longest among all other beaches of Zakynthos, meaning you can easily find a quiet space with few if any, people around. Perfect for those who seek a peaceful and magical moment on a magical crystal-clear waters beach.
What facilities does Banana Beach offer?
You can lay your mind to rest as Banana beach is equipped with some of the best facilities a beach can have.
On the banana beach you will find sunbeds sitting under big umbrellas, bars that offer cold drinks and light food, if you're with a car – huge parking spaces, and everything else you may think needed to make your experience hassle-free. Oh, there are multiple options for water sports here as well. All the above makes Banana beach the perfect choice for families.
Where is Banana Beach located in Zakynthos?
Banana beach is located 14 km from Zakynthos Town, around 20 minutes ride by car / Taxi, on the southeastern part of the island.
3) Porto Limnionas Beach
Porto Limnionas is not the typical beach that comes to your mind, but perhaps the most naturally unique one. Its shore is made out of huge rocks rather than sand, and it's much deeper. But there are a couple of things that make this beach so special:
for starters, it's hidden. This place is hard to reach with public transportation, and visitors often travel it by either a personal car or by boat, making this place a rare hidden gem.
Secondly and most importantly, it is characterized by the caves carved in the mountains surrounding it. Those carved caves are shockingly magnificent, and you can enter those to experience the majestic beach from a much more interesting perspective.
Lastly, its waters are much darker than the water of other beaches in Zakynthos, while remaining crystal-clear. This adds a deep-sea color effect to it, which is just beautiful to see in between the rock ridge closing on the shore.
What facilities can be found in Poto Limnionas?
When it comes to facilities, Porto Limnionas does feature a few places to eat and drink, with some umbrellas and other basic facilities, but don't count on it, as there aren't many of those.
Who is Porto Limnionas for?
Usually, this beach attracts solo travelers and young explorers, and not many families. This is probably because this beach is considered unfriendly compared to the other beaches of Zakynthos. Though, it makes a perfect place for those who love natural coasts, with a little human touch to them.
Where is Porto Limnionas located?
Porto Limnionas is located in the western part of Zakynthos.
4) Laganas Beach
Laganas beach is the most popular beach in Zakynthos. Its huge shore is filled with all the facilities you need, with multiple restaurants and bars, canteens, taverns, sunbeds, umbrellas, and plenty of water sports activities, making this place an obvious choice for those who seek the famous touristic experience of Zakynthos. The beach is surrounded by 5 stars hotels, and at night you will find young bars and super cool clubs right next to it.
The beach is pretty, but to be honest, not as pretty as the beaches we've discussed up until now. It's usually very crowded during the day, and the sea itself is pretty generic looking compared to the other beaches of Zakynthos.
One cool thing about the Laganas beach is that it's home to cool sea animals, such as the Loggerhead turtle, and you can even find baby sea turtles on the shore from time to time. Here you will find any kind of activity the sea has to offer – Scuba diving, boating, surfing, water sports, and more.
The Laganas Beach is the best go-to at night time when looking for a cool place to hang out or party. Though, I wouldn't come here in the daytime, as there are much better beaches waiting for you to explore not far from it.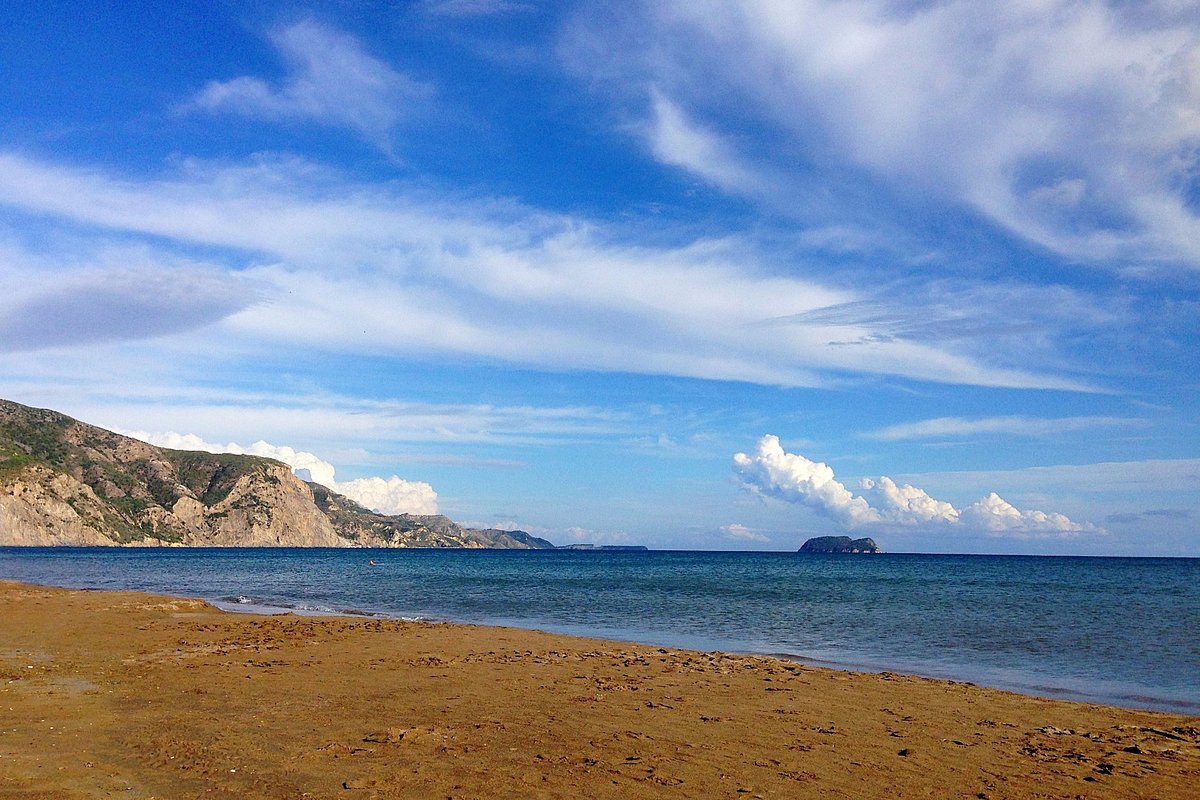 Where is Laganas Beach located?
The Laganas Beach is located in the southern part of the island, 9km north of the main town.
It's amazing how beaches connected to the same sea are so different from each other. If you compare the beaches of France to the beaches of Greece, you can't believe they are all connected to the same ocean.
5) Cameo Island
This one you don't want to miss. Cameo Island has everything. It's probably the second most beautiful beach after the shipwreck beach, and for numerous reasons.
Its uniqueness comes from the fact that, well, it's an island. You get to it by crossing a beautiful wooden bridge that goes over shallow crystal-clear waters. Cameo Island's shore is surrounded by a stunning circular cliff and features a cool restaurant, sunbeds, and shade canopies. But we haven't got to the fun part yet.
Other than being so beautiful, Cameo Island turns into an exciting place at nighttime, featuring parties throughout the whole week, and probably the best parties on Zakynthos. This place creates an experience of a lifetime for every kind of traveler, but the obvious choice for this beach would be for solo or young travelers, who enjoy the company.
Where is Cameo Island located?
It's located just off the coast of Laganas, in the southern part of Zakynthos
6) Bouka Beach
For those who seek a calm natural atmosphere on a fully organized beach, with friendly facilities for any kind of situation, Bouka Beach might be the choice for you.
Bouka Beach is a rather small beach, very close to the popular resort of Tsilivi, with clear blue waters and soft sand. The waters are shallow, and free from water sports activities, meaning you don't need to fear bumping into a motorboat in the middle of your swim.
It's also a home for many sea animals, and that makes Bouka beach one of the best beaches for snorkeling. It's considered very quiet and friendly, which makes it perfect for those who travel with toddlers and want to go for the safest option.
7) Plakaki Beach
We will close our list with Plakaki Beach, well, this is not a beach, it's actually a ridge of beautiful mountains with a gorgeous water strip craved between. This place is nature at its glory, and it holds 0 man-made facilities.
It's not so easy to get here, Plakaki Beach requires some tracking, so you want to dress accordingly, with closed shoes at the very least. Those who love the experience of exploring and tracking rather than just relaxing will enjoy this heavenly place to its fullest.
The path is steep and not the easiest to walk through, so it's best to walk it without children, but when you get to the shore, it's really rewarding. The waters are unbelievable, and the surrounding mountains filled with small caves inside are breathtaking.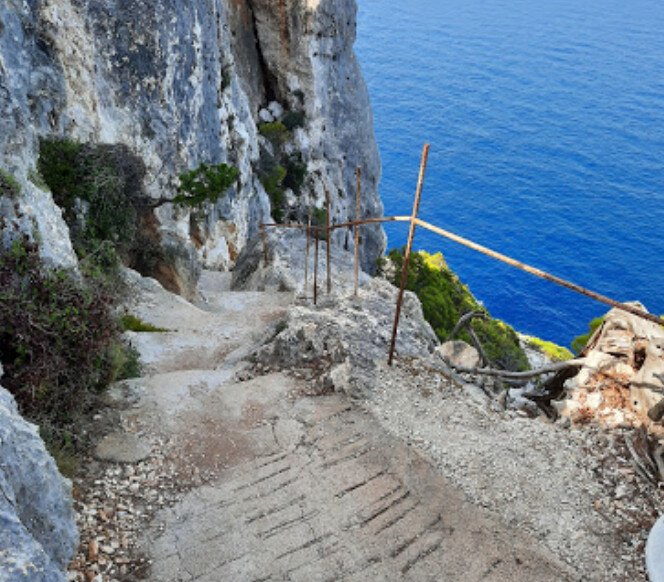 The track gets you to a small white cliff right above the water, which makes the shore of this beautiful beach. From this small cliff, you can dive into the water freely, but make sure you don't rush into the water, as it's surrounded by rocks and you want to be careful.
This place has 0 facilities, so you want to bring food and water along your journey, with an umbrella or a shade canopy.
Summary
Zakynthos is home to some of the best beaches in Greece, and perhaps in the world. Whether you're traveling as a family or exploring on your own, No matter the type of trip you're having you can find the right beach that suits you best. What we didn't mention is that you can take special boat trips in almost every popular beach of Zakynthos. If you are interested in that, you check Greeka to learn more.
We wish you happy traveling, and as always, we would love to hear your comments and experiences from Zakynthos. You can send those to us through our Facebook Community.