Ocho Rios isn't one of those places you can visit blindly. It's unique and adventurous, and so you want to prepare your trip to explore it best. In this article, I'm going to share with you my experiences on the best things to do in Ocho Rios and answer common questions like, is Ocho Rios safe? what are the best adventures in Ocho Rios? and what things to do in Ocho Rios at night?
For those planning a trip to Jamaica, check out our article about Countryside Jamaica, where we discuss rural areas, mountainous topography, lush greenery, and tiny villages that will blow your mind.  
Traveling to Ocho Rios? You must have some questions popping into your mind. Ask us all about those in our Facebook community, We read everything, and we will provide you with every needed answer.
It was a warm and rainy morning in January when we landed at Norman Manley Jamaica's main International Airport.
The airport is located on a piece of land surrounded by waters just south of Kingston the capital city. It took us about 45 min to exit the terminal and join our Taxi which was ordered in advance.
We had a good plan for our trip to Ocho Rios, but this plan quickly became a great plan after visiting some of the most beautiful places this city has to offer.
1. Bob Marley House and Museum, Jamaica
Before going to Ocho Rios, which is located on the North coast of Jamaica, about 62km from Kingston. We asked our driver to take us to the Bob Marley Museum which is the former home of the reggae legend.
In my opinion, this is one of the best things to do in Ocho Rios for all music lovers and also for those who are not, as Bob Marley was way beyond just a musician.
Bob's home is filled with rich memories and artifacts including his legendary guitar and his land rover truck, which seek to preserve the life and accomplishment of this great Jamaican and outstanding musician.
Every curious traveler can learn about the culture of Jamaica by going inside Bob Marley's house and enjoying the strong authenticity and history of such a place.
After fulfilling our souls we started to go up north to Ocho Rios. That trip used to take close to two hours and while it did provide an extended view of the country's beautiful interior, including its renowned Blue Mountains, it was often a perilous and time-consuming endeavor.
For the past years, however, the trip has been reborn as an efficient and safe voyage that provides all the fantastic sights you always get while cutting across the country, without any failings.

2. Beaches of Ocho Rios
We arrived at our resort at about noon time and after a quick lunch, we went to explore the beach, the best attraction in Jamaica at least in my opinion.
Ocho Rios has some of the best beaches in Jamaica and our villa boasted lush tropical gardens and a gorgeous beach.
The clear blue water and shallow areas for swimming make it a nice beach to visit. In fact, if you prefer a private cove beaches Ocho Rios would be the best option.
3. Dunn's River Falls
Dunn's River Falls is one of Jamaica's national treasures and one of the best things to do in Ocho Rios. You can get there by car, Taxi, or public transportation (not recommended), however, we chose to sail with a boat directly from our resort's beach, which felt like a VIP travel experience to me.
It was an excellent decision as we enjoyed a relaxed ocean sailing to and from the falls. When we arrived, we started to understand why it is considered one of the most beautiful spots on the island.
Dunn's River Falls is unique. Described as a living and growing phenomenon, it continuously regenerates itself from deposits of travertine rock, the result of precipitation of calcium carbonate from the river, as it flows over the falls. The small dome-shaped cataracts are usually associated with thermal spring activity found in limestone caves.
This, combined with its location near to the sea, gives Dunn's River the distinction of being the only one of its kind in the Caribbean, if not the world.
The adventurous ones can climb along the side of the falls, while the more relaxed can enjoy the natural pools that the waterfall empties into or take a walk on the adjoining beach.
There are also craft markets to buy works of art and a taste of Jamaican cuisine to energize for another go at the falls.
4. Mystic Mountain Jamaica
The next morning, we took a Taxi and headed to Mystic Mountain. This is a real rain forest attraction that combines the great outdoors with amusement park activities.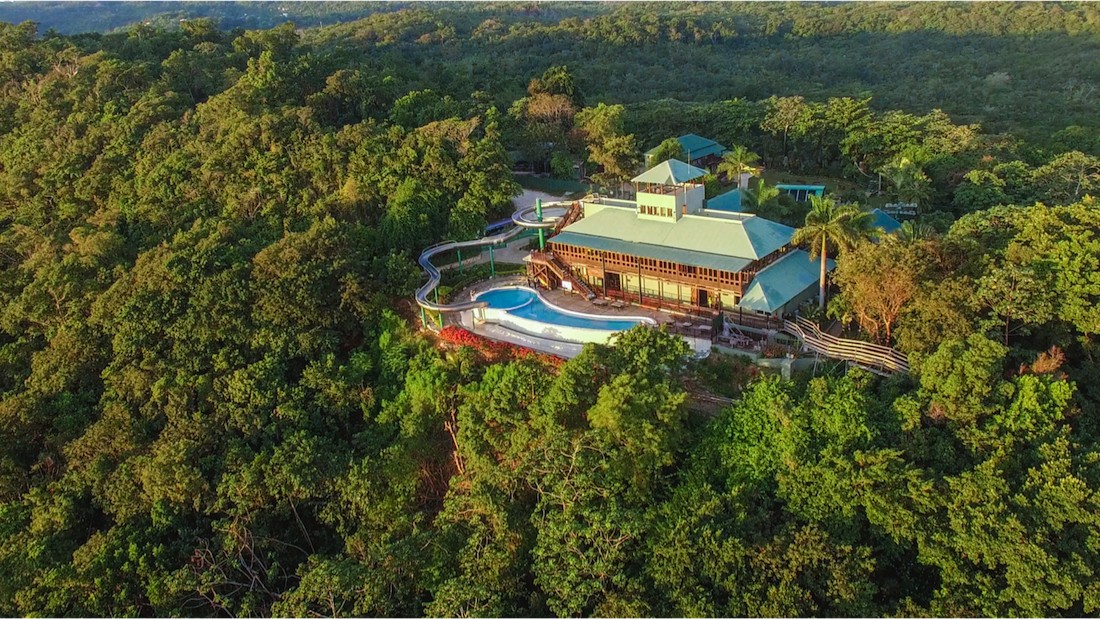 One of the main attractions is the Sky Explorer – which you'll need to start with because it brings you up the mountain – It's a chairlift that offers you a taste of the magnificent views you'll get from the top. There's also the zipline and bobsled (roller coaster with brakes) that sends you flying through a rainforest.
But aside from the adrenaline-fueled attractions, one could also enjoy bird watching, a wading pool and waterslide and a bird's eye view of Ocho Rios sprawled out before you.
5. Irie Blue Hole
Irie Blue Hole (also known as The Blue Hole) is a series of picturesque jungle pools fed by waterfalls in the lush mountains, about a 25-minute drive from Ocho Rios. Also called Island Gully Falls or the Secret Falls.
Several levels offer different vantage points, but the higher you climb, the fewer people you'll probably encounter. One of the most popular things to do here is clambering over the slick rocks above the pool, where you can play Tarzan on the rope swings and jump off into the turquoise water.
Guides are recommended for safety – they'll show you the best places to swim and cross the river, but if you don't want to swim in the pools, you can visit the area on your own. It's also a good idea to wear water shoes, as the rocks can be slippery.
6. Konoko Falls
We took our resort staff's advice for a relaxed excursion and headed to Konoko Falls and park. It was stunning & way less crowded than Dunn's river falls.
Apparently – it's more than just a hike up the falls. Konoko Falls also offers Botanical gardens, a small museum, a zoo with live animals to interact with, and scenic views all that we asked for on that sunny day.
The climb is easy for everyone and not dangerous, just a lot of fun, with tons of opportunities for great pictures. We spent a relaxed half a day and returned to the blue waters of our resort beach.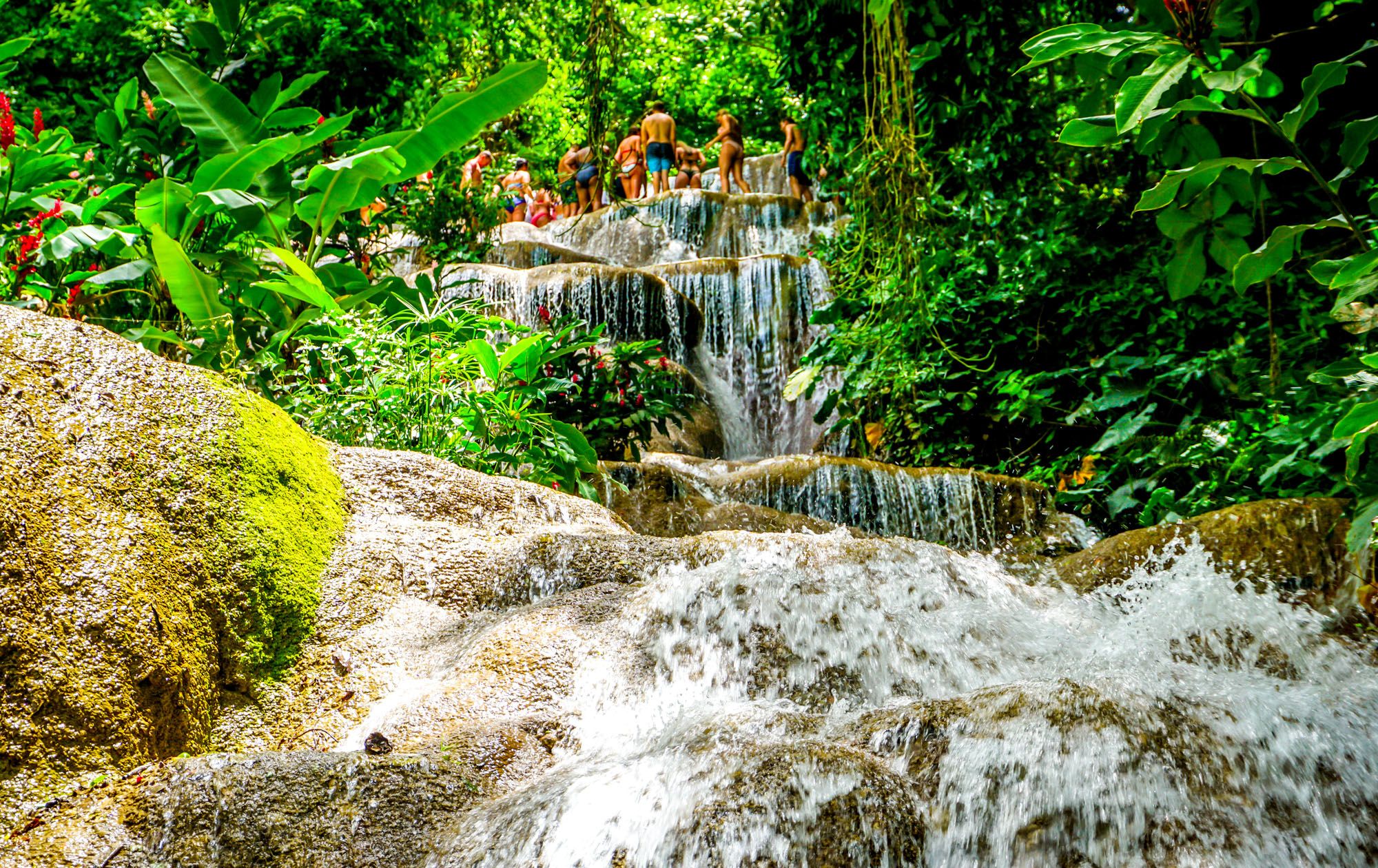 7. Luminous Lagoon
A unique night experience was waiting for us at the Luminus Lagoon. Jamaica is one of the only places in the world where you can find bioluminescent water microorganisms that emit a phosphorescent light when the water around them is agitated.
Shortly after sunset, we boarded a boat that took us across the lagoon to marvel at this unique phenomenon. We were also allowed to enter the water so don't forget to take your swimsuit under a comfy outfit that's easy to put on and take off.
The water's floor is muddy so water shoes would probably be ideal. Also, remember to carry a towel. An important tip for travelers is, rainfall and full moons dull the glistening waters' glow, so if either of these is experienced during the day/night of your visit the bioluminescence may not be that impressive.
8. Ocho Rios Nightlife
A common question that keeps popping up is "what are the best things to do in Ocho Rios at night?"
The nightlife in Ocho Rios is particularly vibrant and has a little bit of everything. From exciting clubs like club foreplay or Eight Rivers Lounge to sports bars and outdoor entertainment.
Many places offer live music introducing local singers and bands where the crowd is invited to take part by dancing and singing.
The atmosphere is wild and the energy is high so we found ourselves partying with locals and visitors from all over the world until very late, an unforgettable night to remember.
9. Jamaican Food
Rustic, satisfying, and rich with spiciness and heat from scotch bonnet chilis and pimento, traditional Jamaican food is widely enjoyed.
Here in Ocho Rios, whether you're sitting down by a thatched-roof shack along the road or an upscale seaside restaurant, you can always find authentic Jamaican dishes on the menu or other modern variations of these original homestyle comfort food.
Jerk chicken is the food most associated with Jamaica, this spicy, marinated chicken dish got its name from the method used to prepare it, called "jerk cooking".  The best jerk chicken in Ocho Rios that I found was at the Ocho Rios Jerk Centre.
Usually, the chicken is seasoned with a paste made from allspice, scotch bonnet peppers, cinnamon, nutmeg, clove, ginger, garlic, and thyme. After slow-smoked over pimento wood in old oil barrel drums, the smoky and charred chicken pieces are then served with rice and peas, steamed cabbage, and fried plantain.
Other variations of jerk meat in Jamaica include beef, pork, goat, and fish. Ackee & Saltfish is Jamaica's national dish. Made in part with the yellow flesh of boiled ackee (a round, reddish fruit that originated from West Africa) sautéed with salted codfish, onions, tomatoes, chilis, and various spices.
It closely resembles scrambled eggs on a plate and is typically served at breakfast, sometimes at dinner, with a side of coleslaw, Jamaican dumplings, or hard dough bread.
Other typical Jamaican foods that is served all around Ocho Rios are the famous fish and festival, curry goat, oxtail, pepper pot soup, Jamaican patty, and more.
The Ocho Rios restaurants you ultimately choose to dine at really come down to what cuisine you're in the mood for. If you wish to taste the island's famous jerk dishes, some of the best local spots to taste the authentic meal are rustic-chic Scotchies Jerk Centre and Lyming at Walkerswood rest stop just before the miles-long green canopy of Fern Gully or at the famous Mama Marley's.
You can also enjoy internationally styled culinary selections. Treat your palate at Stush in the Bush's organic farm-to-table experience in the mountains; sample a taste of France at L'Escargot or tour Italy at Evita; and try fusion cuisine at Usain Bolt's Tracks and Records that'll take your appetite 'to di world.'
These are the best things to do in Ocho Rios from our perspective. If you feel like you need more information or suggestions, you can write to us through our Facebook Community, we read and answer every question. You can also try to find more attractions through TripAdvisor.
Ocho Rios Travel Tips and FAQ