Corfu, one of the Ionian Islands in Greece, has long been known as one of the most beautiful places in the world to visit.
With pristine beaches and breathtaking architecture, this romantic island has something for everyone. If you're thinking about visiting Corfu, here are 10 unique things to do in Corfu that you won't find anywhere else!
Where to stay in Corfu
It really depends on the type of travel you're looking to experience.
If you're looking for a "big city" experience, you should visit the more touristic areas such as Sidari, Benitses, and Kavos. Those cities are filled with life, beautiful beaches and people, so those would be the safest options for most.
If you're looking to do a specific experience in Corfu, you should consider making a stop in one of the less known areas of the island. Palaiokastritsa for example, has a unique beach that is perfect for Scuba divers. It's filled with sea life and there are ruins of World War II to explore.
1) Visit Saranda and Butrint National Park
These two UNESCO World Heritage Sites are must-sees when in Corfu.
Saranda is an ancient city with ruins dating back to the 6th century BC, while Butrint is a unique archaeological site that has been occupied since the Bronze Age.
Take a guided tour to learn more about the history and culture of these amazing places.
By the way, we have started a community on Facebook where you can ask questions and find ideas for your next trip! Join our Facebook community.
2) Rent a Car and Go on a Road Trip
There's something about the freedom of the open road that just can't be beaten.
And when you're driving through one of the most beautiful countries in the world, it's even better. Public transportation can be limiting in Corfu, and the cost of a 1 hour trip by Taxi would roughly be the cost of a full day of a rented car.
So, if you're looking for a unique and unlimited way to explore everything that Corfu has to offer, renting a car and going on a road trip is the way to do it.
you can Compare Car Rental in Corfu to see whether it fits you.
If you are planning a road trip to Corfu, be sure to include these next stops:
Old Town Corfu
Corfu Town Old Harbour
Monastery Paleokastritsa
Benitses, Corfu
Roda
3) Go kitesurfing by Chalikounas beach
Corfu is perfect for kitesurfing, as the beaches of Greece are usually friendly, with calm waters and outstanding beauty.
The best time to go kitesurfing is from May to October when the winds are strongest. Chalikounas beach is the perfect spot for beginners because it has shallow water and soft sand.
If you're looking for an adrenaline-filled activity, kitesurfing is the perfect thing to do in Corfu.
4) Shop in St. Spyridon Square (Old Town)
One of the best things to do in Corfu is to stroll around and do some shopping in St. Spyridon Square.
This square is full of life, with plenty of shops and restaurants to keep you busy. Plus, it's a great place to people-watch and soak up the atmosphere of the island.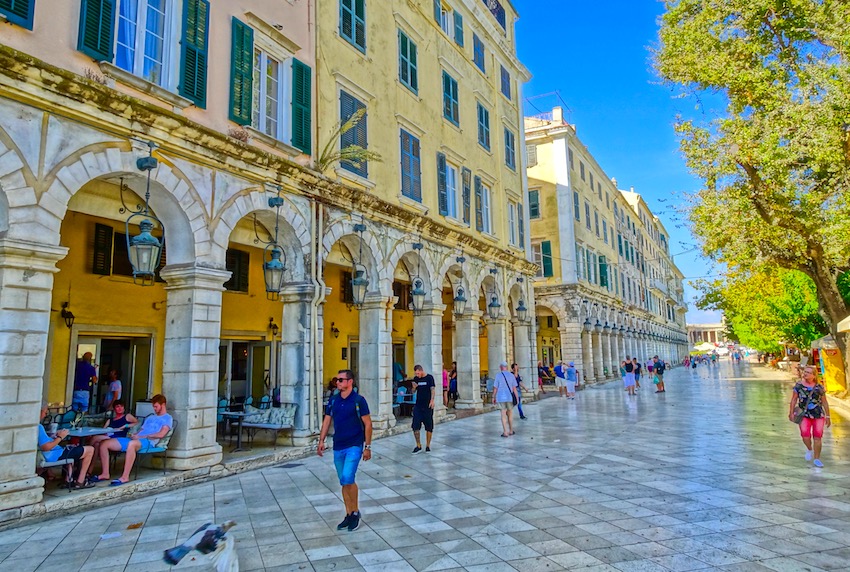 5) See the best sunset you've ever seen
You can make it a romantic end to a busy day with you partner, or just enjoy the beauty of nature with family and friends. The sunsets of Corfu are outstanding, probably due to the wide and open space combined with the shiny waters that reflect the sun perfectly.
The colors here are incredible and you can easily find a spot anywhere along the coast. The best place that we recommend going to is Palaio Frourio, which is an old fortress overlooking the city.
Not only will you get an amazing view of the sunset, but you'll also learn about the history of the island.
If you love that kind of dreamy places you should consider traveling to France sometime soon, it's filled with dreamy landmarks just like these. Check out Top 8 French Landmarks You Won't Want to Miss.
6) Have breakfast on Arillas Beach
The beach is located on the northwest coast of the island and is known for its clear water and stunning views.
There are a few restaurants that serve breakfast right on the sand, so you can enjoy the sound and smell of the waves while you eat.
This is a great way to start your day and get some Vitamin D!
7) Eat traditional Greek dishes
The Greek food here is amazing and you'll find some of the best restaurants in the world. Some of the best things on the menu include the traditional Greek dishes like spanakopita and dolma, as well as the more modern fare like grilled chicken and fish.
Summary
Of course, this is just a partial list of things to do in Corfu. You can also take a snorkel and look for some water turtles that are found in Corfu and Zakynthos beaches. Scuba dive, Enjoy the nightlife some of the big cities of Corfu has to offer, and more.
The best thing about Corfu, is that you don't need to plan your entire trip. You can easily enjoy the little thing this island has to offer, and that is what makes this place so unique and fun to visit.
Have a safe travel!