Do you love oysters? Of course, you do, who doesn't? Oysters are delicious, but did you know that there are oyster festivals around the world where you can enjoy a variety of delicious oyster dishes, from luxury chef-made meals to an all-you-can-eat feast at discounted prices?
Read on to find out about 10 of the best oyster festivals around the world that you won't want to miss!
Just before we dive into our experiences with oyster festivals, we wanted to let you know that the Sunset team and our community are here to answer any question you have through our Facebook Community.
We would also love to hear your stories & be inspired by your experiences, so make sure you share those with us!
What is an Oyster Festival?
Just like it sounds, an oyster festival is a food festival centered on, well, oysters. There are a number of oyster festivals worldwide and they usually provide a wide array of accommodations to suit every budget.
Other than tasting oysters, the oyster festival usually offers cooking demonstrations, shucking competitions, bars, music, wine tasting, and more!
1) Milford Oyster Festival, USA
This one is pretty special. We, the Sunset team, are big fans of Rock and Metal bands, we were SHOCKED to hear that The Milford Oyster Festival features live music performed by some of the greatest artists out there like Foo Fighters.
This festival is one of the most popular oyster festivals in the world and it's held annually in Milford, Connecticut. Oyster-wise, it features some of the best oysters from around the globe harvested in Milford waters.
Among the many things you can find at Milford Oyster Festival are food trucks, beer crafts, and wine tasting. If you are into it, you can even participate in Canoe and Kayak races – absolutely crazy. If you're looking for a fun-filled weekend, this is the festival for you! Downtown Milford, see you there!
2) Norwalk Oyster Festival, USA
The Norwalk Oyster Festival is one of the most popular oyster festivals in the world. It takes place every year in September and October in Norwalk, Connecticut.
During the festival, there are all sorts of oyster-related events alongside other free entertainment in the area, such as multiple live shows on stages, family activities, a shucking contest, and an oyster eating contest. If you love oysters, this is one festival you won't want to miss.
If you're traveling to the United States, after visiting the festival you should check out our 7 Tropical Vacations in the USA.
Address: 35-acre Veteran's Memorial Park in Norwalk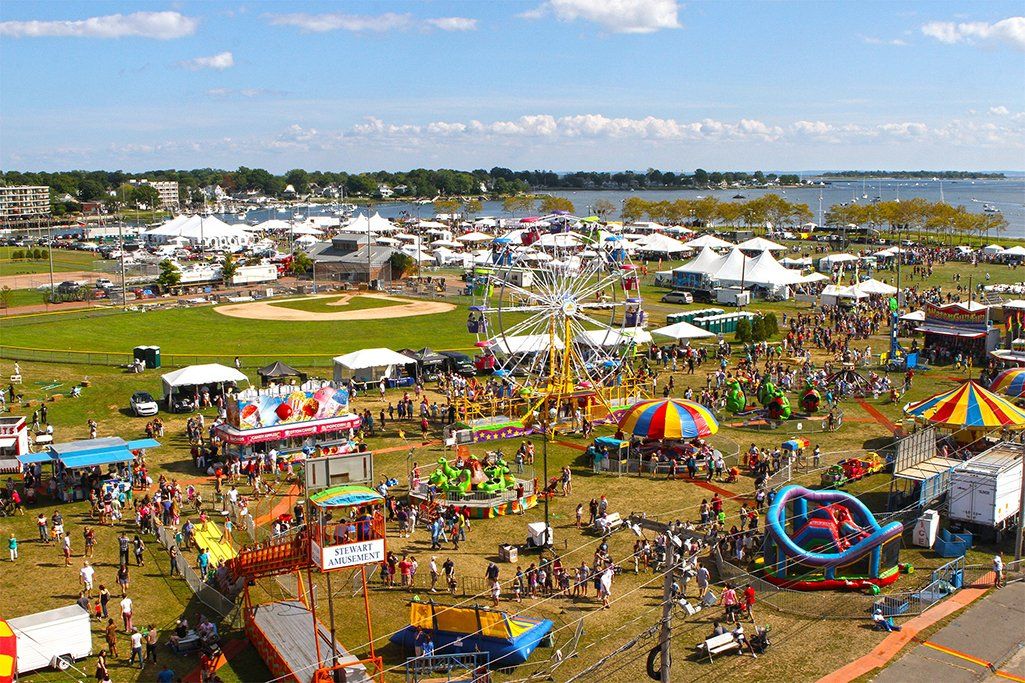 3) Galway Oyster Festival, Ireland
Welcome to the oldest oyster festival in the world, deemed one of Europe's longest-running food extravaganzas, the Galway International Oyster & Seafood Festival was launched in September 1954.

The Galway Oyster Festival is a world-renowned event that takes place annually in Galway, Ireland at the end of September each year, drawing thousands of visitors to sample the famous native Galway Oysters. Contest in a shucking competition, watch top-class entertainment or street parades, and walk through seafood trails.
4) Narooma Oyster Festival, Australia
The first weekend of May is always Festival weekend for The Narooma Oyster Festival. Here you will find picnic vibes and sunset skies, so bring along your picnic blanket and prepare to eat a ton of oysters.
You guessed it! you can compete in shucking championships here as well. You can also participate in cooking programs held by top chefs, sit in some of the bars and lounges in the area, taste wine cheese, and craft beer, or just enjoy the live music shows around you.
There is excellent transportation to the festival, so that's not an issue. By the way, the place is absolutely stunning, as you can see in the picture.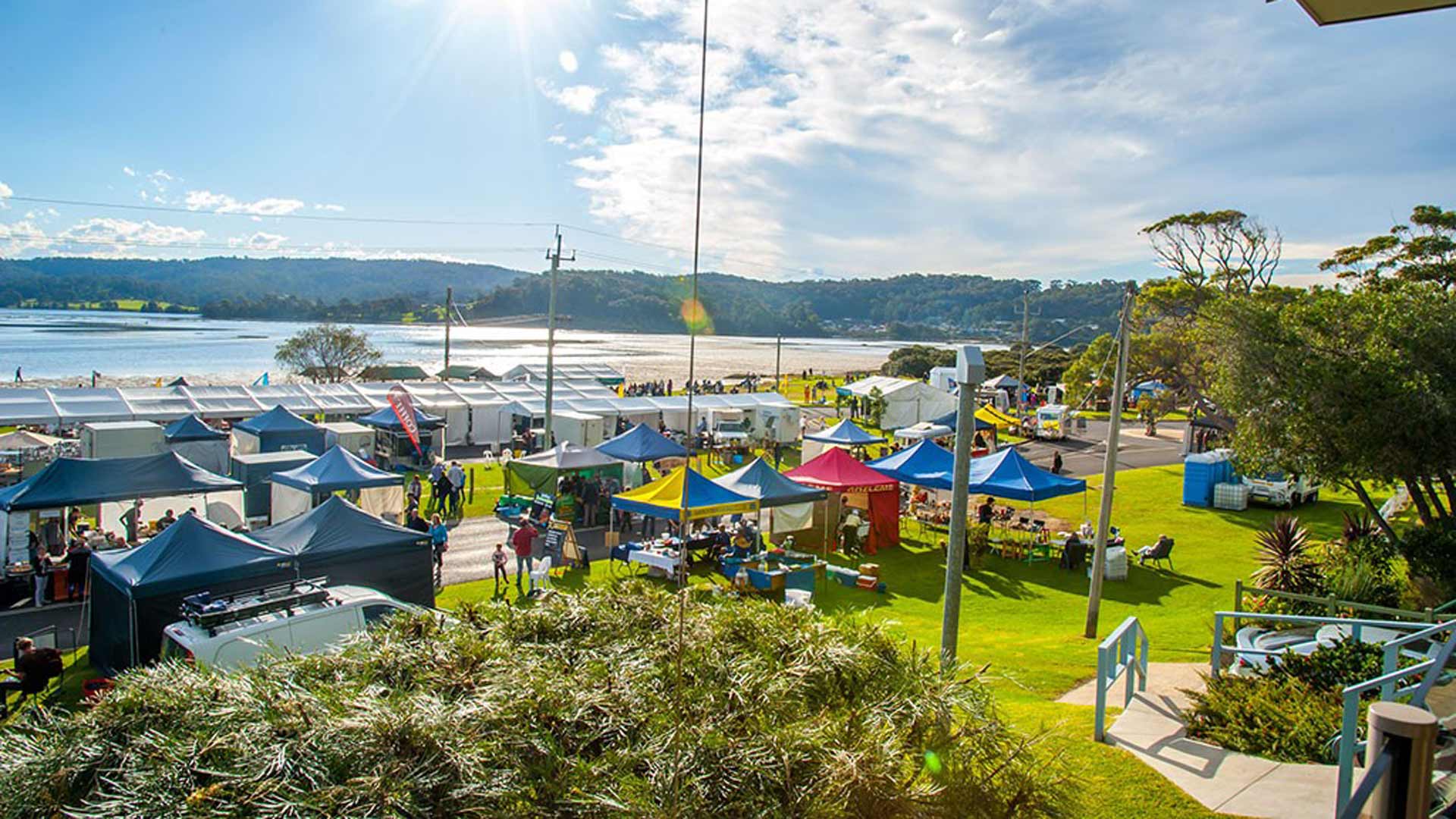 5) Urbanna Oyster Festival, USA
We will start by saying that you can come here by boat, how cool is that? It costs a few bucks and it's a pretty special experience.
The Urbanna Oyster Festival is held every year on the last weekend in October, starting in the morning and ending in the afternoon/evening, depending on the day.
This festival is a celebration of the oyster harvest and features live music, oyster shucking, and eating contests, an oyster roast, Wine tasting, Craft beer tasting, and more.
Urbanna Oyster Festival Map:
Address: 390 Virginia Street – Suite C – Urbanna, VA
6) Prince Edward Island International Shellfish Festival, Canada
Held on the picturesque Charlottetown waterfront, the Prince Edward Island Shellfish Festival in Canada is one of the most beautifully situated in the world.
Other than participating in oyster shucking contests and eating a lot of those, this festival is known for its many, many cooking competitions, including Tie One On Mussel Competition, Mott's Clamato Shellfish Festival Caesar Competition, Junior Chef Challenge, Garland Canada International Chef Challenge and more. It also features non-stop live music, and multiple bands a day.
The tickets for this one sell super fast, and we recommend getting your tickets at least 6 months in advance.
7) Saint-Cast-le-Guildo Oyster Festival, France
The Saint-Cast-le-Guildo Oyster Festival offers a more luxurious experience. This one is less about the live shows and the family activities, but more focused on tasting delicious and fancy oyster dishes.
Northern and southern Brittany are both favorable areas for producing oysters and have a reputation for their exceptional quality. Other than fancy oyster dishes, you can find pastries, wine, and other kinds of seafood. If you happen to visit this festival in France, you should definitely visit some of the 10 Lakes in France You Won't Want to Miss
Summary
Oyster festivals can be found around the world in Canada, Chile, Croatia, France, Ireland, South Africa, Spain, the United Kingdom, the USA, and probably more. Most include cooking and shucking competitions, oyster dish tastings, oyster marketplace, live shows, music, performances, and more.
We truly had a blast going to an oyster festival even though we don't even like oysters that much. It was just full of excitement and good vibes. Let us know in the comments or in our Facebook group about your experiences. and as always, Happy traveling!