In order to properly prepare for your trip to Provence, France, you need to understand its main sights and attractions.
The area is filled with towns and villages, from Avignon and Towns Of The Luberon to Saint-Remy-de-Provence.
The Luberon region has become famous for its lavender fields, but there are plenty of other things to do in Provence as well!
Here are 6 charming things to do in Provence, France.
Where is Provence
Provence is a geographical area and historical province of southeastern France. It encompasses part of what is today southeast France, but it was historically much larger than it is today.
Traditionally speaking, Provence includes parts of four current departments: Var (south), Vaucluse (east), Bouches-du-Rhône (west), and Alpes-de-Haute-Provence (north).
It extends from the river Rhône southwards, following its valley, to a point on the Mediterranean Sea around Hyères; then leaving Cavalaire Massif at Fos Sur Mer southwestward along an arc that roughly parallels—but lies inland from—the coast: The city of Marseille being its most prominent seaside resort.
Pro Tip: If you are planning a trip to Provence, France,
Check out the 8 French countryside towns you'll fall in love with.
Map of Provence
Towns of The Luberon, France
Some of France's most charming towns are located in a region known as Provence.
The Luberon Valley is nestled between two mountain ranges that form one of southern France's most stunning landscapes.
With vineyards covering its rolling hills and fields of lavender blanketing entire hillsides, it's no wonder why artists have been drawn to create works inspired by this French treasure.
As you travel through Luberon, visiting towns like Rousillon or Gordes, keep an eye out for gorgeous lavender-filled fields and any opportunities for fun activities along your route.
The Lavender Fields Of Provence, France
If you're looking for a summer vacation that will not only allow you to relax but also enhance your knowledge of how certain plants are harvested and used in various products (such as fragrances), then you should consider visiting Provence, France.
Located on France's southeastern coast, Provence is renowned for its scenic beauty and historical sites; however, it is best known for its vast fields of lavender.
Most tourists flock here during July or August when these fields are blooming and scented with flowers.
The best time to visit is from mid-June through early July or late August through September because these times are ideal for harvesting lavender.
The Calanques In Provence, France
The Calanques in Provence is located 38 min drive from Marseille and feature some of France's most spectacular natural beauty.
You'll find spectacular cliffs plunging into crystal clear water and a rugged coastline that offers a large variety of activities including hiking, swimming, kayaking, and sunbathing.
At certain times of the year, you can even swim with bottlenose dolphins.
The Calanques are perfect for anyone who loves experiencing new cultures and embracing mother nature at its finest.
For those who prefer more cultural experiences, there is plenty to do as well including visiting medieval villages or sampling lavender-flavored treats made right on-site at local shops.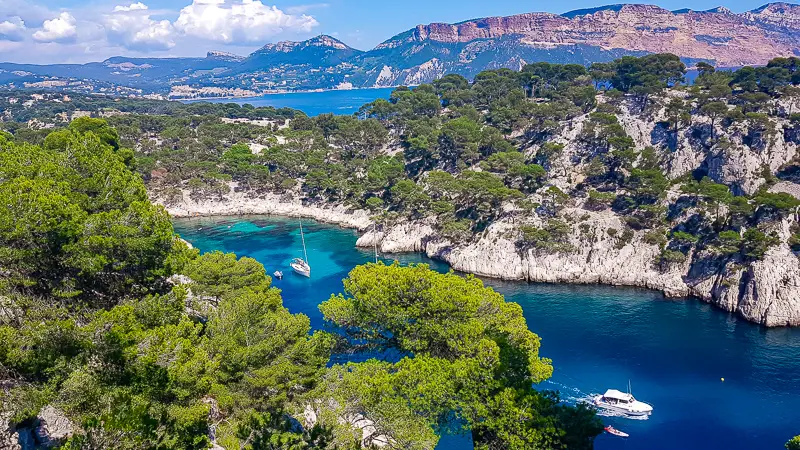 Aix-En-Provence Market
The Aix-en-Provence market is a great place to pick up quality fruits and vegetables.
The market days are Tuesdays, Thursdays, and Saturdays. 
Farmers from surrounding areas set up their stalls on Place Richelme, one of the town's largest squares.
There are more than 150 vendors who sell everything from fruits and vegetables to pieces of bread and honey. Aix-en-Provence is about 45 minutes south of Marseille in southeast France on the Mediterranean coast.
It is also near some stunning sites like the Mont Sainte Victoire (41 min drive and an artist favorite).
Upon arrival, I suggest checking the tourist information website.
The Gorges Du Verdon
The Verdon Gorges were formed by water eroding away at a layer of limestone over some 6 million years.
The huge canyon-like canyons stretch for 15 miles through three different departments in France: Var, Alpes-de-Haute-Provence, and Vaucluse.
Boats and tour buses travel down its length offering tourists views of towering cliffs and beautiful landscapes filled with lavender fields that tower above Lake Sainte Croix.
To drive down one side and back up from another takes about two hours so a scenic walk along part of its path is better suited for those with lots of time on their hands or who are very active (and healthy) because climbing up many steep hills is necessary.
Cassis, France
The Côte d'Azur of France, Cassis is home to peach bottom cliff jumping.
Climb down a cliff via a series of steel ladders and jump into an azure blue water hole at high tide or from a platform at low tide.
Other options include diving off your own raft or swimming near a small island that's home to flamingos and pelicans.
Combine Cassis with Marseille (40min card drive) for day trips – get insider advice here!